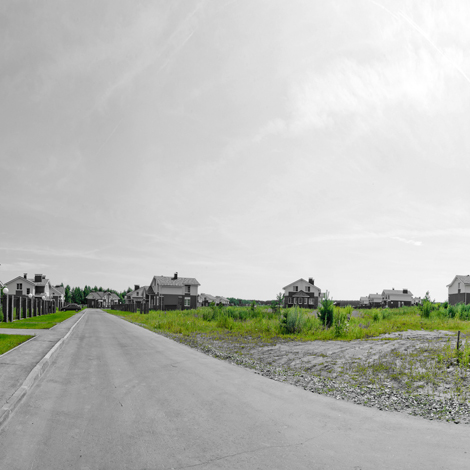 When analysing the situation, a consternating observation was the almost complete lack of nature within the settlement - in opposite to its splendid natural surrounding.
The design approach is based on interweaving landscape and housing estate; stimulating a relaxed, informal living environment, consensual with the adjacent natural qualities.
The existing street profiles have been altered, able to incorporate landscape features like trees, grass areas and rainwater infiltration zones; a more natural transition between public and private is suggested. The urban layout for the vacant area pursues this approach of a landscaped public realm.
Small-scale neighbourhoods aim to stimulate communal cohesion; public park areas and an alley-like space offer places to sojourn; a non-corresponding street-pattern discourages car traffic.
In addition to the existing catalogue of houses, a range of alternative housing typologies is developed. As required in the design brief, they anticipate formally on the existing versions. Its plain design is based on a modular system, adaptable to individual programmatic needs, spatial preferences, financial budgets and future additions.
The demand for settling within the enclosed housing community "Europa" has stagnated. In order to reverse this decline, the task was to enhance the attractiveness of its overall living environment. The design brief included a new layout for the area still vacant within the settlement; the development of a housing typology, able to anticipate on the inconsistent real estate market; and suggestions to improve the environment of the already occupied area.