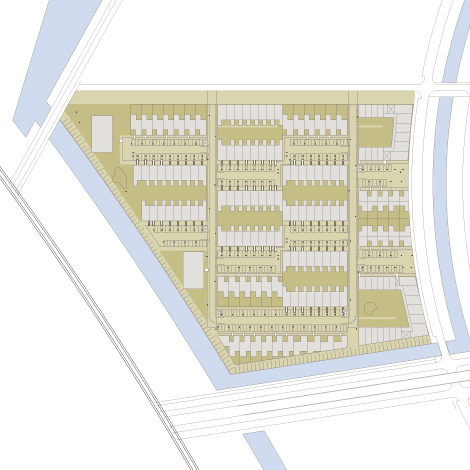 We were asked to design an urban scheme for one of the fields and, at the same time, elaborate specific housing typologies which would appeal to the taste of the 'average Dutch housing consumer'.
The design focuses on two aspects of contemporary housing: the custom-made house and the collectively designed living environment. The predominant housing typologies are single-family houses, grouped around collective courtyards, which can be landscaped by the adjoining house owners. The houses, divided into different categories, are individually adjustable within a wide range of options. The average building height of the whole plan is one storey plus roof, making the urban setting very relaxed although the use of land is very intense. The roofscape, resting on a solid base of light coloured brick, is entirely materialized in wooden shingles.
The Homerus district is part of an urban plan by OMA for a new suburban extension for the city of Almere. The urban plan consists of different building fields organised radially around a central core containing public facilities.