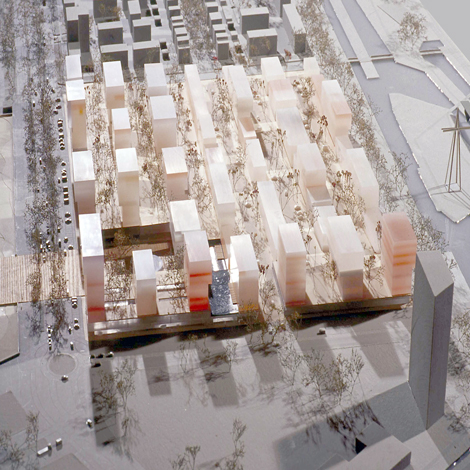 Within the concept for the Nesselande centre design diverse programmatic requirements, like urban- and rural living, parking, utilitarian-, recreative- and cultural facilities, are comprised as one coherent morphological entity. By doing so the centre of the vinex-quarter acquires, despite consisting of a high percentage of single-family housing, a significant appearance. At the same time this concept makes it possible to develop a diverse vocabulary within the matrix of strips which is able to anticipate changes in differentiation during the design process.
The uniting element is the so called 'green carpet'; a permanent and present quality of natural green which creates a highly valuable living environment and also works as a 'blanket' for the facility and parking programme.
The design combines two living ideals: ground accessed housing in a garden / park like environment and upstairs living with a pleasant view and close proximity to facilities. These two housing patterns are complimentary and are able to strengthen each other in a natural and convincing manner.


The centre of the vinex-quarter (suburban neighbourhood, legalised by Dutch spatial planning) Nesselande is to be situated on the edge of an artificial lake, formerly used for sand excavation.