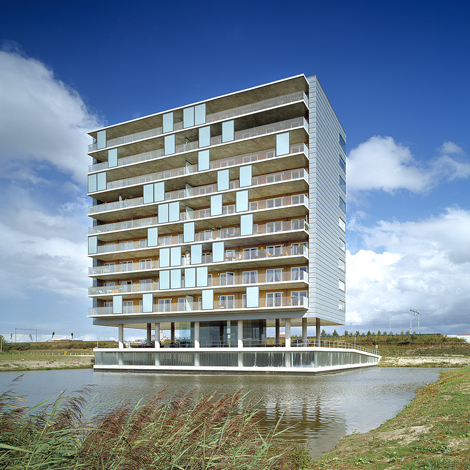 The building comprises of two volumes: a horizontal volume containing parking and storage facilities, and a vertical volume, nine storeys high, with two apartments per storey. In relation to the substructure the nine-storey main volume is slightly elevated and provides a free view of the 'Havendiep' from the street side.
Due to noise prevention the facade facing the railway line and the adjoining head facades had to be constructed as so-called 'mute façades'; fronts without parts that can be opened. This leads to a very specific housing concept:
The supporting structure, lying in a longitudinal direction, divides the apartments into two zones: a utilitarian zone containing the bathrooms, storage areas, circulation, open kitchens and entrance halls, and a living / sleeping zone.
The regular openings in the west façade and the inner supporting structure correspond exactly with each other. This enables the placement of separating walls without disturbing the main spatial organisation, gives freedom to arrange the living space and allows to determine the number of rooms individually. The technical installation system, including the air heating, is designed with that aim.
The west façade is determined by the horizontal appearance of the balconies, which provide every apartment with more than 40 m2 of exterior space. Movable glass screens allow individual protection against sun and wind.


The Abacus apartment block is situated along the Amsterdam-Lelystad railway line at the head of the waterway 'Havendiep'.