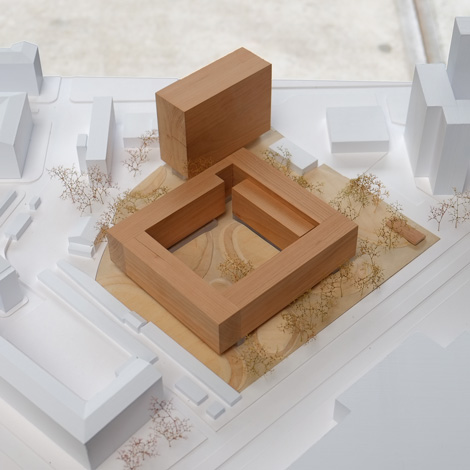 The urban setting of the buildings anticipates on two adjacent housing configurations: the enclosed courtyard block of the Stalin era and the solitary structures of the post-war era. Two different living qualities are combined: introvert / extrovert and protected / overlooking. The common underlayment for these divergent typologies is a continuous landscape of rolling meadows, infiltrating the suspended building volumes. The open ground floor area is free to be programmed, in the competition design it comprises a kindergarten and commercial premises along an internal alley.
The structure of the complex is based on the grid of the underground parking and offers a high-grade flexible housing differentiation. The tectonic of the pre-cast concrete façade elements anticipates on this indetermination. The infill of the elements can be customized according to the prospective disposition of floor plans.

This project has been elaborated in collaboration with Orange Architects.

The project is located on a prominent site within the central part of Moscow, close to Gorky Park and Moskva River. It comprises 42,000sq m of housing, commercial space and a kindergarten.