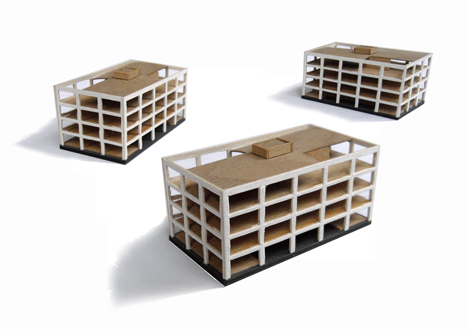 The apartments are situated around a central entrance hall which is provided with daylight by a glazed roof. The entrance stairs circle around the elevator, separating the entrance hall in two autonomous halls. Because of its specific construction, bearing facade and bearing shaft, the size, number and place of the apartments may vary on each floor.
The facade therefore has been kept as a neutral concrete grid. Heating devices are hidden under the window seal in order to keep the walls free and make any floor plan possible.
The grid is continued on the roof, as the roof is clearly visible from the neighbouring buildings.


In an urban setting designed by the Architecten Cie, a number of small urban villas are situated in a fully car-free landscape. The design is made for three of those urban villas. The layout was fixed in both size and height.