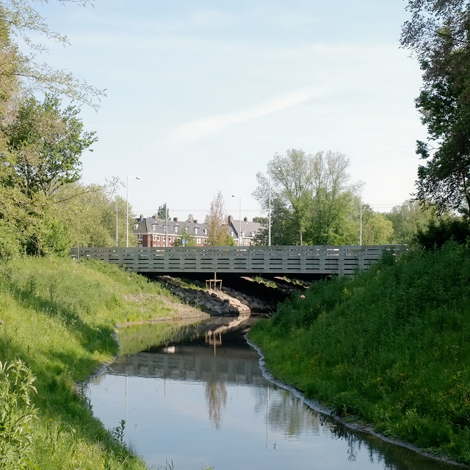 The bridge over the Schipluidensingel / Westlandgracht is the first in a range of bridges which will be added or transformed according to the new spatial concept of the Lelylaan.
The brief asks for a design which has a great affinity with the existing bridges and the architecture of the western garden cities; the bridge should work as a prototype, setting the standard for the 'family of bridges' still to come.
The function of the bridge is to achieve an ecological and visual connection between the residential area 'Andreas Ensemble' and one of Amsterdam's major parks, the Rembrandtpark.
The major element of the design are two significant walls, embedding the bridge into the hilly landscape, marking the entrance to the Rembrandtpark and making the link to the existing bridge. The deck of the bridge is perforated by four 'open boxes', they are standing in a spatial relationship with the two walls and are providing the ecological route with natural light. Monumental elm trees are rising up through the openings and are linking the public space on top with the natural environment below.
The bridge is part of the new urban framework for the western garden cities of Amsterdam. Within this framework the 'Lelylaan', which is one of the major entries to the city centre, plays an important role as a structuring element. It contains various bridges which are barely visible when driving on the street itself, but which have a great spatial impact on the adjoining lower areas.